Stainless Steel Pails, Buckets, and Lids

Each stainless steel pail features a seamless, flowformed construction that eliminates welds, soldered joints, and crevices.

The one-piece construction ensures our pails are more sanitary and more durable than economy pails.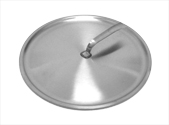 Stainless steel covers are dome shaped with clip-type handles that hang on the rim of the pail when not in use.